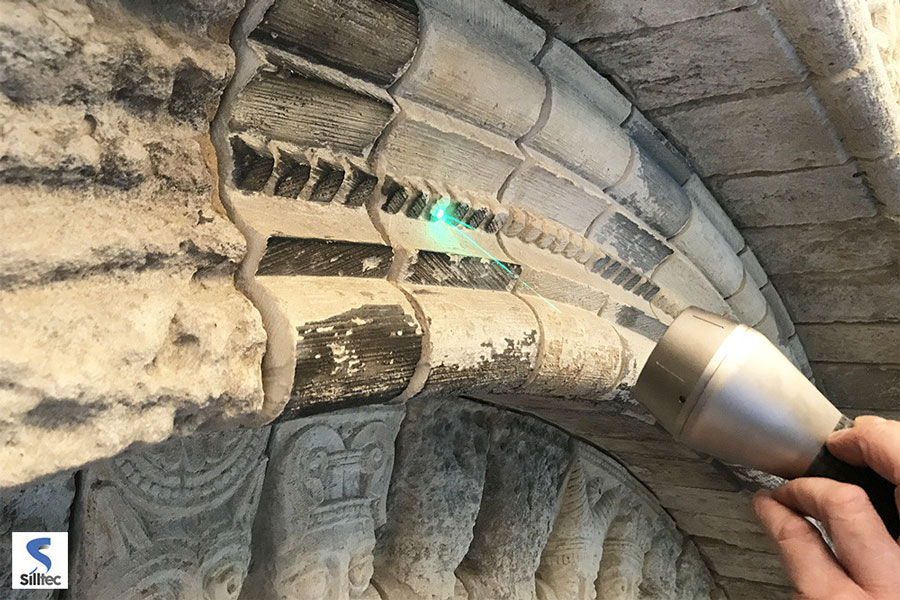 Laser cleaning and stripping of materials and surfaces
SEDI-ATI provides fiber optic cables to transport the high-power laser beam from a stripping machine to the surface to be cleaned.

Laser stripping to clean without damaging
Laser stripping allows to clean a substrate (stone, metal, …) without damaging it, by removing a more or less thick layer of material such as dirt, rust, pollution, paint, enamel or polymer from its surface.
Laser stripping consists in focusing a very high laser energy onto the surface to clean. The material to be removed strongly absorbs the laser energy, at the point it instantaneously evaporates or peels off.
A laser for each type of layer to remove
The laser type to be used depends on the layer type to remove. Indeed, a material that absorbs a specific wavelength will heat quickly. And when it reaches a certain level of absorption, it heats to a plasma. Actually, a material vaporizes due to the interaction between its composition and the wavelength of the laser, combined with the power and mode of operation of the laser (duration of the laser pulses).
For instance, rust strongly absorbs light in the deep infrared (around 10 µm) while metals all reflect very strongly in that part of the spectrum. As a consequence, a rust layer on a metal part strongly absorbs an incident high-power laser beam, resulting in its removal without affecting the base metal.
Its industrial or cleaning applications
Laser stripping is thus particularly very much appreciated for industrial applications such as the cleaning of tools, machines, and injection molds, but also for the renovation or maintenance of parts in the automotive, naval or aeronautics industries.
It is also widely used to clean polluted surfaces such as the facing stones of buildings and monuments. Indeed, the interaction between a laser beam and a substrate, like a stone for example, makes it possible to remove the encrustation of different pollutants such as atmospheric pollutants, fossil fuel pollutants or black encrustation from acid rain, without damaging the stone.
Machines with specific and adapted fiber optic cables
Laser stripping machines are usually equipped with fiber optic cables terminated with handpieces that allow to focus the laser beam on a very specific point on the surface to be cleaned. The fiber optic cables must withstand the high-power energy of the laser and be resistant to the site conditions (oil, water, …).
SEDI-ATI provides high-power fiber optic cables to transmit such high-power lasers from the machine to the surface to be cleaned. We manufacture special power fiber optic cables made of large core silica/silica fibers up to 1 mm core diameter, protected with a stainless steel and PVC coating. The core can be either round or square depending on the customer's request. We can also offer free-standing high-power connectors at the end of the cable.