SpectroscopicMeasurements
Case study
Spectroscopy is one of the only non-destructive ways to help us see, measure, analyze, characterize and identify things that are invisible to the human eye.
SEDI-ATI has designed a variety of fiber-optic based components that are perfectly adapted to perform and enhance spectroscopic measurements. Besides, they all allow reducing the size of spectrometers as no more free-space optics are needed.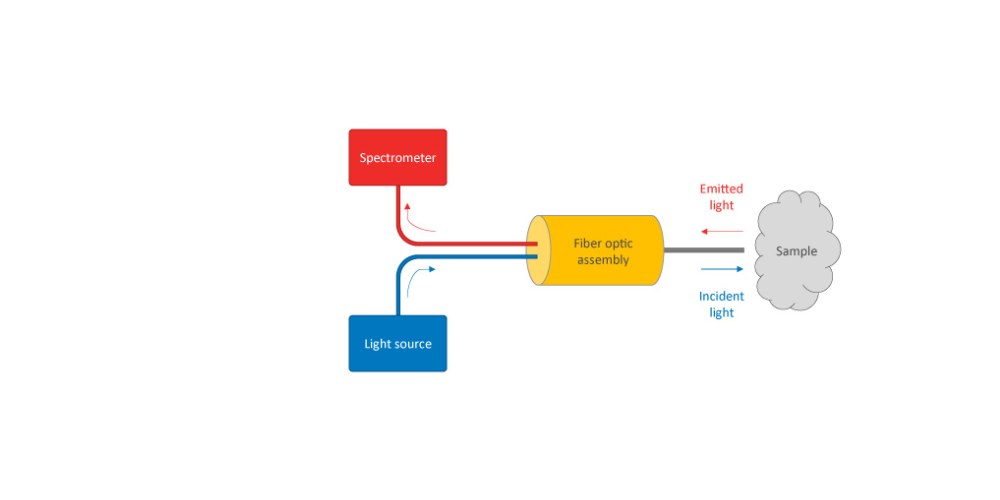 Among the fiber-optic assemblies we propose for spectroscopic measurements:
Each solution features intrinsic properties and different advantages that have to be considered depending on the targeted application.
Product focus: 1×2 high-directivity fiber-optic multimode couplers used in round-trip configuration for sensing applications
One of the fields of application of the HD and HDS series is optical metrology and sensing where the dynamic range of the sensor is a key parameter.
The unique manufacturing technology of these couplers is based on wavefront division. The main benefits of this technique, other than high directivity, are mode insensitivity and achromaticity.
The optical signal is input through the injection port of the 1×2 coupler (the light source) onto a measured surface. The light can be backscattered by an object to be analyzed, either as it is, or with a shifted wavelength. The reflected light is gathered back through the common fiber (port 3) followed by redirection towards the second port of the coupler to the detector.
Here, the high-directivity is a great advantage to minimize the light that can directly pass from the injection port to the output port. Also, the insertion loss from port 1 to port 2 is < 6.5 dB with a total reflection at the common port. This way, a minimal mismatch between the input and the reflected signal is achieved.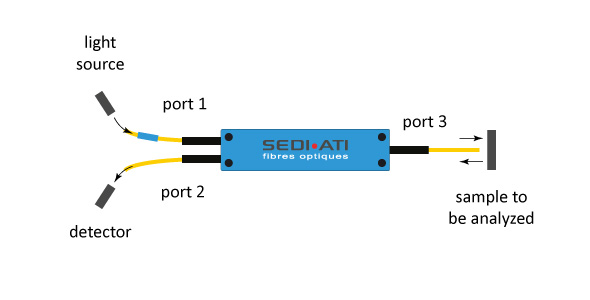 Key features
High Directivity > 55 dB (with GI 50/125 µm),
Achromaticity and mode insensitivity over the wavelength range 400-1625 nm (HDS series),
Low insertion loss in round trip configuration ≤ 6.5 dB (can be lower than 6 dB if not used at fully filled stage),
Life at SEDI-ATI: EPIC Photonics+ Virtual Exhibition and Conference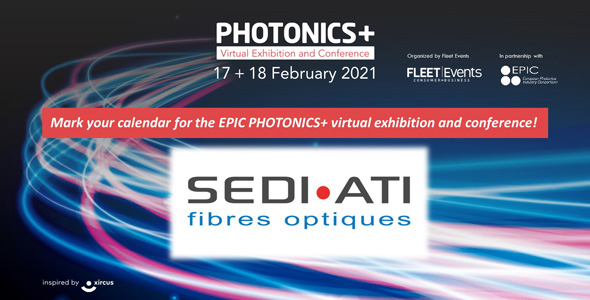 The spectrograph's optical fibers lead to three specific geometries:
2 MOS (multi-object spectroscopy) of 1008+960 fibers, for the observation of individual point objects,
20 mIFUs (mini integral-field units) of 37 fibers each, for the observation of extended objects with small field integrals,
1 LIFU (large integral-field unit) of 547 fibers, for the observation of a large integral field,
SEDI-ATI Fibres Optiques will be exhibiting at the EPIC PHOTONICS+ Virtual Exhibition and Conference on 17+18 February 2021!
Visit our virtual booth. Our team will be available to answer your questions and help you with your specific, complex, or extreme application projects.
Also, do not miss our short talk about "Fiber-optic assemblies dedicated to spectroscopy" on February 17th at 4:10 pm.
Ask Amandine Debloudts for your free ticket code and register to meet us at this unique international virtual event in photonics!