Life at SEDI-ATI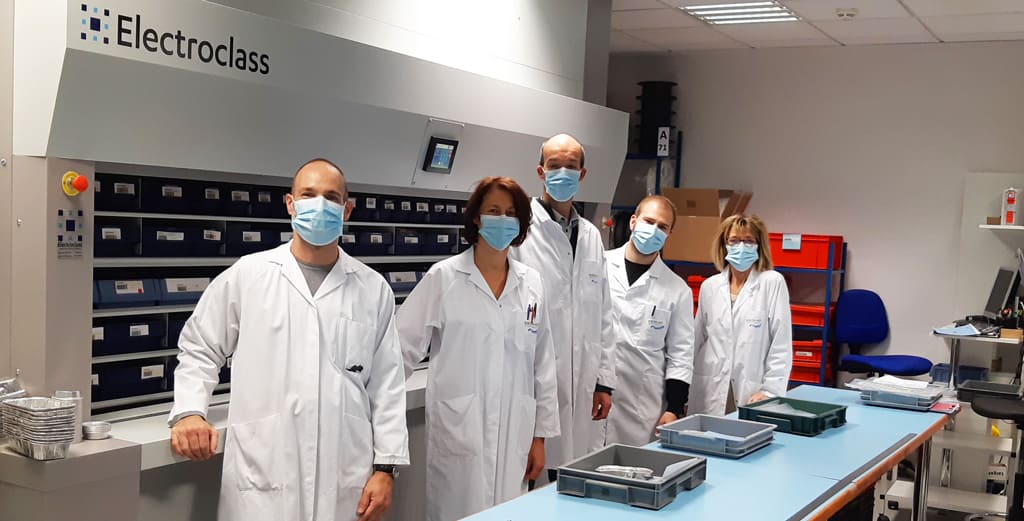 SEDI-ATI improves its productivity thanks to a rotary stocker
In March 2020, during the covid-19 confinement, SEDI-ATI launched its business continuity plan. We understood that more than ever, it was the right time to install an automatic storage system as it could be of great help to honor our customer's orders during the uncertain days to come. Our team reports on the success of this project.
"The idea to equip ourselves with a vertical rotary storage system came from the need to optimize our storage space, to simplify the management of our stock, and to secure small items for which access times must be short" explains Michèle Cale, Supply Chain Manager at SEDI-ATI, who initiated this project.
"We have chosen a stocker with a high capacity of storage of 9 shelves of 2 to 3 stages each, from the French manufacturer Electroclass" claims Jean-Marc Sorel, Quality and Operational Excellence Manager. He pursues "This project is part of a 5S and digital transformation program to computerize and automate our component inventory management."
Arnaud Bassier, Infrastructure Manager, explains that "Electroclass was ready to follow our sanitary and safety protocol: wearing of a surgical mask and hand-washing. We were then able to install the storage during the confinement."
Jean-Marc continues "Since the stocker is operational and because it communicates with our ERP system, we have real-time visibility of our stock." Michèle adds "So far, we have gained in fluidity by reducing the untimely movements of our operators in the warehouse. We also have considerably increased our preparation rate for production launches, and therefore we have gained in productivity."
Jean-Marc concludes "We have significantly reduced our shelved storage area. The space freed up will allow us to install new workstations."
Case study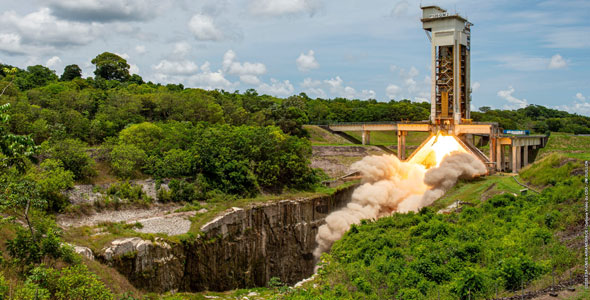 Courtesy: ESA/CNES/Arianespace/Optique vidéo du CSG – JM Guillon
World first: boosters fired by a fiber-optic based opto-pyrotechnic system
SEDI-ATI Fibres Optiques is very proud to have contributed to the successful final opto-pyrotechnic ignition test of the P120C solid rocket motor at Europe's Spaceport in French Guiana on 7 October 2020!
This was the last test before the inaugural flight of the European launcher, scheduled for 2022. The P120C is the world's largest monolithic carbon fiber solid-propellant rocket motor. It will act as side boosters for Ariane 6 as well as being the first stage for Vega-C.
SEDI-ATI is highly involved in the program that consists in controlling the integrity of the opto-pyrolines used to fire the P120C rocket motor. We propose ruggedized interrogation fiber-optic components that withstand spatialized constraints.
Product focus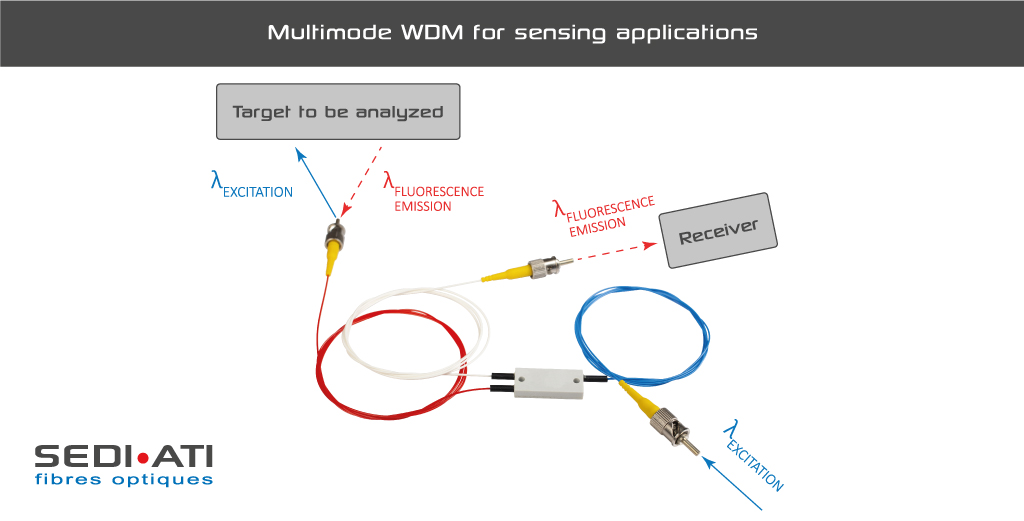 So far, WDMs have been largely used in telecoms and data communications. Standard configurations are usually based on either Gl50/125 or Gl62.5/125 Graded Index fibers, and optimized for applications at 850 nm and 1300 nm.
But there is a growing interest for sensing applications emerging from the industry, the military and aerospace market, as well as from the medical fields.
As an example, we can design a WDM for fluorescence diagnosis in the detection of cancerous tumors. Fluorescence diagnosis requires a light source that is very powerful, especially in the blue spectral range. When excited by the light source, the cancer cells that carry a gene encoding a fluorescent protein emit fluorescence. Our specific WDM offers a very effective solution to transport the excitation wavelength from the light source to the target, and to transmit the fluorescence emission wavelength to the analyzer.
We have two in-house evaporation chambers which allow us to produce custom dichroic filters. Therefore, upon request, we can offer personalized WDMs for operation at any wavelengths. There must be at least between 20 nm and 30 nm of separation between the excitation wavelength and the emission wavelength.
Besides, we can design WDMs for use with a variety of optical fibers, including large core step-index fibers up to 400 μm core diameter, and we can also offer ruggedized configurations to withstand extreme environments.
Key features
custom configurations
custom dichroic filter for UV, VIS and IR applications
choice of various multimode optical fibers
robust, compact and lightweight design
[porto_info_box pos="top" icon_type="custom" read_more="box" img_width="100″ icon_border_radius="500″ icon_img="4684″ title="Your questions" link="url:https%3A%2F%2Fwww.sedi-ati.com%2Fcontact%2F|title:Get%20in%20contact%20with%20us||"]
Need more information? Get in contact with our teams right now!
[/porto_info_box]
[porto_info_box pos="top" icon_type="custom" read_more="box" img_width="100″ icon_border_radius="500″ icon_img="4683″ title="Your project" link="url:https%3A%2F%2Fwww.sedi-ati.com%2Fyour-specific-request%2F|title:Submit%20your%20project%20request||"]
Looking for something specific? Submit your request here.
[/porto_info_box]
[porto_info_box pos="top" icon_type="custom" read_more="box" img_width="100″ icon_border_radius="500″ icon_img="4685″ title="Your satisfaction" link="url:https%3A%2F%2Fwww.sedi-ati.com%2Fcustomer-satisfaction-form%2F|title:Let%20us%20know%20how%20to%20improve%20our%20services||"]
How can we improve your satisfaction in working with us? Fill in our form.
[/porto_info_box]