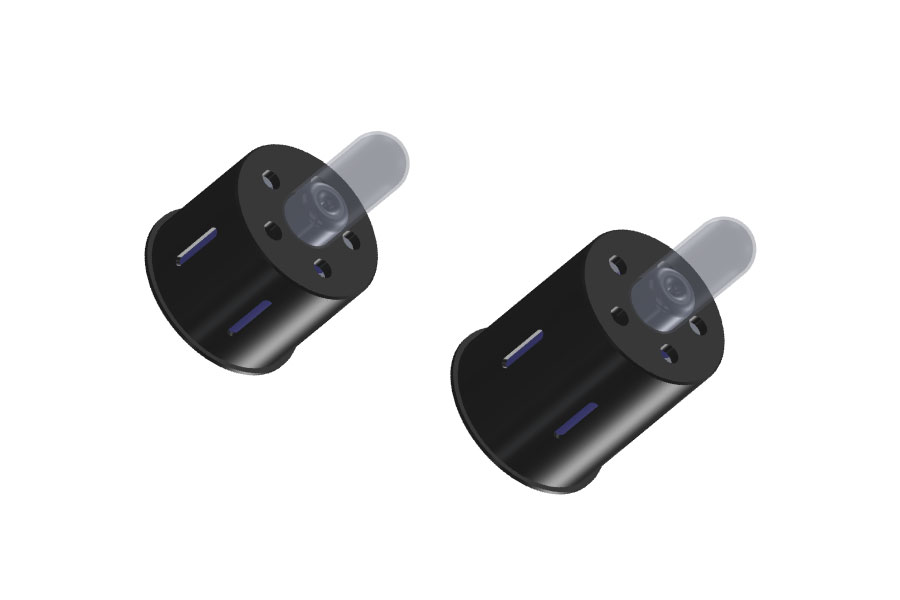 Key features
bidirectional link
length from 300 m to 2 km
compact and lightweight
high bandwidth allowing video and control transmissions
EMI immunity
field-installable
directly mounted onto the ground vehicle
detwisted fiber optic coil for a secured and fast deployment
withstands deep water pressure
resistant to sea salt corrosion
neutral buoyancy upon request
1310-1550 nm SM fiber
ST connector
custom configurations up to 20 km
Marine fiber optic spools
The innovative concept of our disposable fiber optic spool for ROV, lies in the fact that it is directly mounted onto the underwater drone. This way, the fiber does not suffer any constraint since it deploys while the drone moves.
Indeed, the deployable side of the spool is connected by an ST connector to the control station on a support vessel or on land. The stationary fiber is connected to the ROV with a hermetically sealed interface to withstand deep water pressure. Also, our optical fiber is resistant to sea salt corrosion.
Besides, the fiber-optic spool system offers high-speed deployment over long distances up to 2 km.
This solution with venting holes on the box is very compact and lightweight. We offer different packages in size depending on the required spool capacity. Boxes with neutral buoyancy can be made upon request.
This concept has the potential for both civil and naval applications. Indeed, this technology allows real-time transmission of huge data flows from onboard high-resolution cameras and sensors. In addition, it allows drone guidance in deep water. Potential applications range from the inspection of wrecks to mine action missions.
Another advantage of the RBOB-ROV is that it is a disposable system based on the concept: 1 mission = 1 spool. Indeed, the fiber can be easily detached and dumped in the sea, which prevents from rewinding the optical cable and thus allows saving time and shortening the missions. Also, the fiber can be easily reconnected on the field with a simple field connectorization kit.
Please contact us to discuss your specific requirements.
RBOB-ROV-91A

Spool length

from 300 m to 1 000 m

Dimensions

64 mm height x 80 mm diameter

Connection to the control station

ST connector mounted on the extruded overcoating fiber

Connection to the vehicle

30 cm long pigtail with 1.8 mm jacket and terminated with a ST connector

Fiber type

SM fiber 9/125/250 μm

Operating wavelength range

1310-1550 nm

Insertion loss (without connector)

0.7 dB/km @1310 nm and @1550 nm

Deployment force

< 0.05 N

RBOB-ROV-91B

Spool length

from 1 100 m to 2 000 m

Dimensions

94 mm height x 80 mm diameter

Connection to the control station

ST connector mounted on the extruded overcoating fiber

Connection to the vehicle

30 cm long pigtail with 1.8 mm jacket and terminated with a ST connector

Fiber type

SM fiber 9/125/250 μm

Operating wavelength range

1310-1550 nm

Insertion loss (without connector)

0.7 dB/km @1310 nm and @1550 nm

Deployment force

< 0.05 N