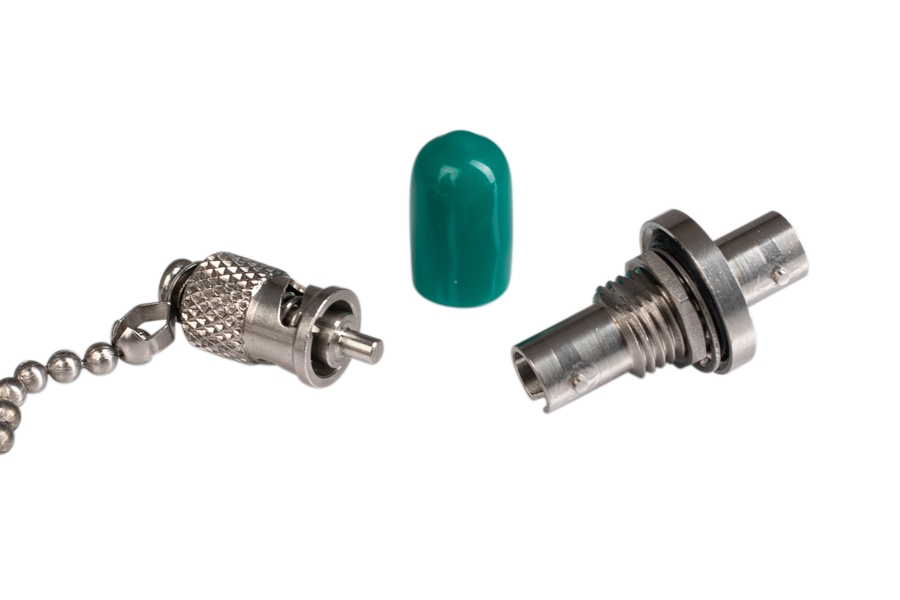 Key features
from vacuum to 30 bars
10-5 mbar.l/s hermeticity when the fiber patch cords are plugged to the KTRAV-IP
single-channel
ST/PC, ST/APC or SMA adapters
Hermetic adapter up to 30 bars
The KTRAV-IP series is a hermetic adapter for pressure applications up to 30 bars.
It can be seen as a simplified feedthrough that does not integrate any fiber inside the body. It is a hermetic adapter that allows to hermetically connect two optical fiber patch cords terminated with SMA, ST/PC or ST/APC connectors. Both sides must remain connected to maintain seal integrity.
Indeed, the SMA and ST coupling parts feature an integral self-sealing design that ensures a watertight, environmentally and hermetically sealed fiber connection. Hence, the KTRAV-IP adapter, when connected to the fiber patch cord, can reach a hermeticity of 10-5 mbar.l/s. Besides, it can withstand a pressure level of up to 30 bars. As a result, the connected optical fiber is completely protected from the surrounding environment.
The panel hermeticity is obtained by a gasket in the flange while the inner hermeticity is obtained by a gasket on the connector ferrule.
This hermetic adapter is supplemented by specific ruggedized SMA or ST connectors and dust caps.
We also offer a variety of compatible patch cords separately. The SMA version supports fiber patch cords from 200 µm to 1500 µm core diameters terminated with in-house SMA connectors equipped with a Viton O-ring. The ST versions are compatible with any patch cords up to 1000 µm and terminated with standard ST connectors.
Please contact us to discuss your specific requirements regarding our hermetic adapter solutions for vacuum and pressure applications up to 30 bars.
KTRAV-SMA-IP

Pressure

from vacuum to 30 bars

Hermeticity

10-5 mbar.l/s

Housing material

stainless steel 303L

Panel drilling diameter

-

Panel thickness

3,28 mm min.; 6 mm max.

Adapter interface

SMA with Viton O-ring

Insertion loss

< 3 dB max.

Operating wavelength range

-

Operating temperature range

-40°C to +85°C

Storage temperature range

-

Protection index

IP68 with associated product, according to EN 60529, IEC 529 & DIN 40050

KTRAV-ST-IP

Pressure

from vacuum to 30 bars

Hermeticity

10-5 mbar.l/s

Housing material

stainless steel 316L

Panel drilling diameter

-

Panel thickness

2,54 mm min.; 5,71 mm max.

Insertion loss

< 0.5 dB typ.

Operating wavelength range

-

Operating temperature range

-55°C to +85°C

Storage temperature range

-

Protection index

IP68 with associated product, according to EN 60529, IEC 529 & DIN 40050