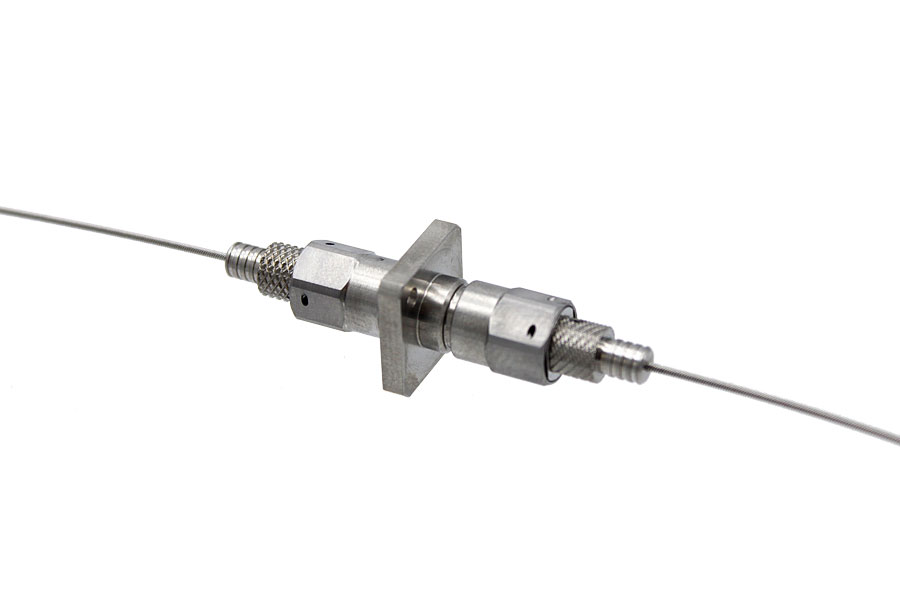 Key features
FC J.I.S. compatible
ruggedized
versatile
compact
zero outgassing materials
resistant to corrosion and high-temperatures
PC or APC polish
PM, SM or MM fibers up to 1000 μm core diameter
FCXtreme® connector for military and space-flight applications
SEDI-ATI releases the FCXtreme® connector, a high-performance versatile and compact FC type connector, fully qualified for military and space-flight applications.
Fully compatible with the FC J.I.S. standard, the FCXtreme® connector shows outstanding performances in harsh environments. So far it has been qualified for operation under shocks and vibration conditions as well as under dynamic variations of the temperature from -55 °C to +125 °C, without affecting its performances. Therefore SEDI-ATI can guaranty variations of less than 1 dB in insertion loss. Besides, the FCXtreme® connector is resistant to corrosive and vacuum environments.
A ruggedized and versatile design
The FCXtreme® connector is composed of stainless-steel materials and is available with either ceramic or metallic FC/PC and FC/APC ferrules. Hence, it is suitable for either low-outgassing or high-temperature applications. Besides, its smart design accepts all types of single-mode and multimode fibers. Furthermore, it can be mounted with any type of fiber protection including peek and metal tubing from 900 µm to 2.3 mm in diameter. Last but not the least, this connector exhibits a hexagonal nut to assure a controlled tight connection. And it can be secured by a wrapping wire to withstand strong vibrations and shocks.
A compact FC connector
Its dimensions have been studied to meet the best solution in terms of bulk. Indeed, it is rather short with its 31 mm length and has an outer diameter smaller than 10 mm. As a result, it is smaller than conventional FC connectors, which opens up new perspectives of usage.
Towards the future
SEDI-ATI is currently conducting further in-depth qualifications in terms of resistance to extreme environments. The FCXtreme® connector shall pass a salt-spray test. Undergoing stringent tests are also being led in seismic, nuclear, and geophysics conditions up to +200 °C. Finally, step-by-step testing and improvements are planned to progressively address applications up to +600 °C.
Important notice: the connectors are an integral part of our products and cannot be sold separately.