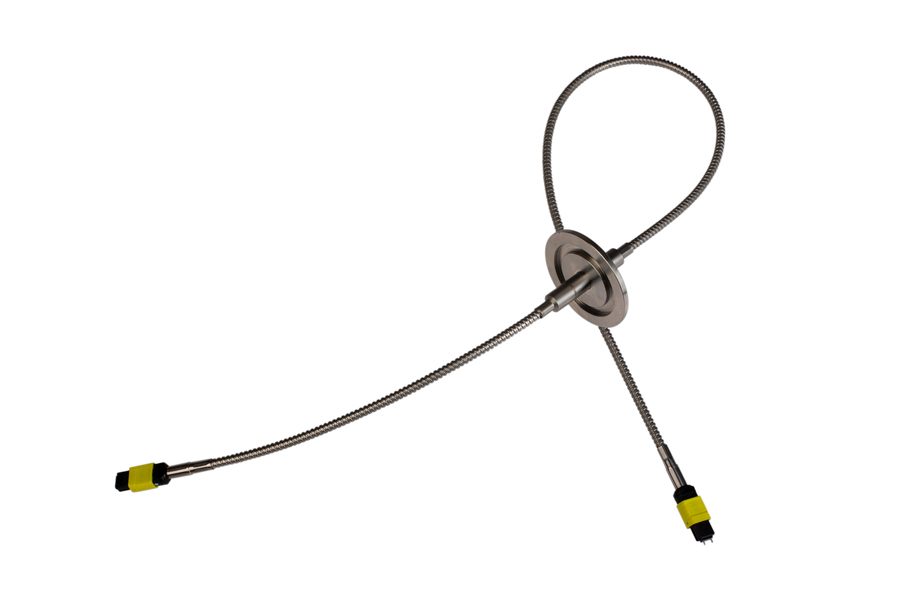 Key features
inline-style
multi-fiber ribbon up to 24
12 or 24-fiber MTP® connectors
SM or GI fibers
CF or KF flange
bare ribbon or stainless steel tubing
vacuum applications
Fiber-optic ribbon hermetic feedthroughs
The RETA-RIB fiber-optic ribbon hermetic feedthroughs are designed for vacuum applications where a large number of fibers is required in a compact assembly.
The fiber-optic ribbon is hermetically sealed on a CF or KF flange. It is delivered with a helium leak test report ensuring a high level of hermeticity better than 10-8 mbar.l/s.
They can be made with either singlemode [SM] fibers or multimode [MM] graded-index [GI] fibers 50/125 μm.
The RETA-RIB can accept up to 2 ribbons with a high channel count of up to 12., i.e. 24 fibers upstream and downstream.
The ribbons are terminated with either 12-fiber or 24-fiber MTP® connectors.
The connectors can be either flat polish or angle polish at 8°, and have either pins (male) or not (female), according to the customer's choice.
Finally, we offer either the bare ribbon or a stainless steel tubing to protect the ribbons.
Please contact us to discuss your specific requirements.