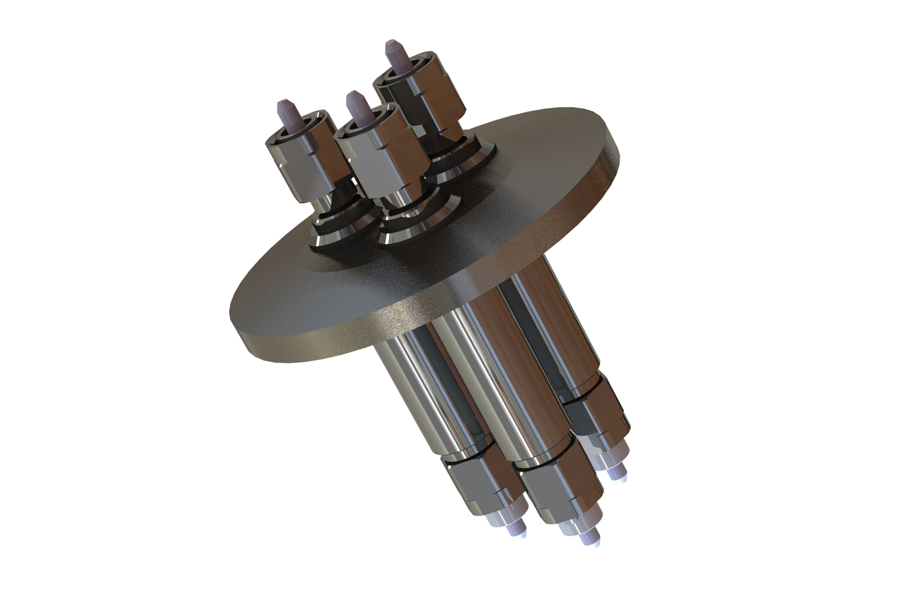 Key features
ruggedized
for vacuum and ultra-high vacuum applications
10-8 mbar.l/s hermeticity
UV-VIS-NIR wavelength ranges
multichannel: 1 to 3 channels on DN 40 KF flange or 1 to 4 channels on a DN 40 CF flange
available flanges: DN 40 CF and DN 40 KF
PM, SM and MM fibers
FC/APC, FC/PC and SMA adapters
Ruggedized multichannel hermetic fiber-optic feedthroughs
The KTRAV-T12 ruggedized multichannel hermetic fiber-optic feedthroughs are designed for high & ultra-high vacuum applications. They feature extremely low outgassing rates and helium leak rates.
Every feedthrough channel is built with an internal fiber rod identical to the fiber used upstream and downstream for perfect matching of the optical characteristics of each line.
These ruggedized multichannel hermetic fiber-optic feedthroughs can be made with polarization maintaining [PM] fibers as well as with any singlemode [SM] fibers. They can also come with multimode [MM] graded-index [GI] fibers or step-index [SI] fibers with a cladding diameter of 125 μm. We offer these configurations with either FC/APC or FC/PC connectors. The KTRAV-T12 feedthroughs are also available with SMA connectors and are suitable for large core fibers from 100 µm to 400 µm, Low OH, High OH, and solarization resistant fibers.
Standard configurations are available with 1 to 3 individual channels within one DN 40 KF flange or up to 4 channels within a DN 40 CF flange. Custom designs are also possible upon request; we offer different sizes of ISO, CF and KF flanges.
Please contact us to discuss your specific requirements.
KTRAV-T12-CF40-FC

Pressure

ultra-high vacuum

Hermeticity

10-8 mbar.l/s

Sealing technology

clamp ring

Housing material

stainless steel 304L

Number of channels

1 to 4

Panel drilling diameter

depends on the number of channels

Panel thickness

1 mm min.; 23,5 mm max.

Fiber type

SM, MM GI50, MM GI62.5, LCH50, LCH105 with 125 μm cladding

Insertion loss

< 1 dB max. @1550 nm (0.3 dB typ. @1550 nm on SMF128)

Operating wavelength range

200-2000 nm depending on the fiber

Operating temperature range

-55°C to +125°C

Storage temperature range

-55°C to +200°C