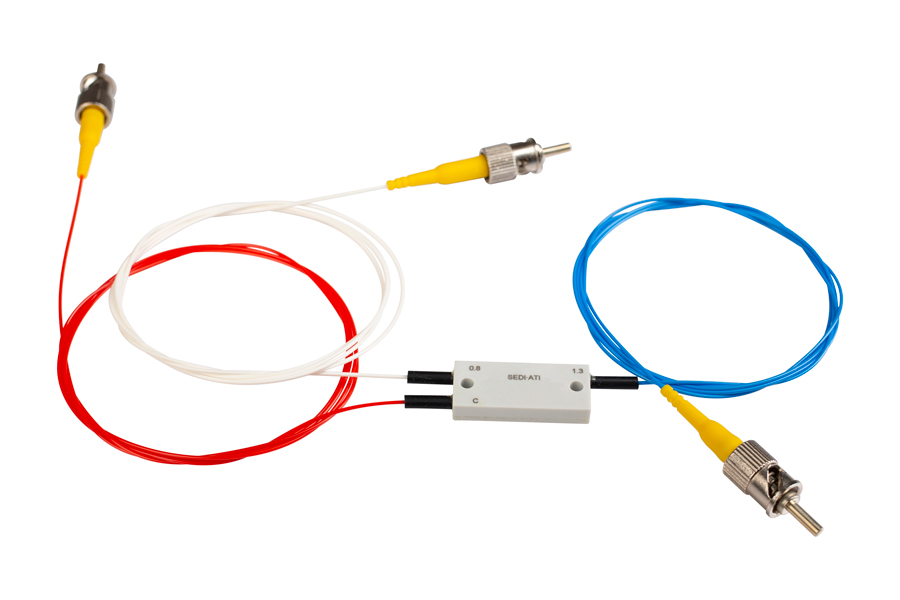 Multimode wavelength division multiplexers
SEDI-ATI's Multimode Wavelength Division Multiplexers are manufactured using a proprietary process based on a dichroic filter directly deposited onto the optical fiber. This unique manufacturing method ensures a robust construction allowing a bi-directional or dual transmission on a single multimode fiber.
Our WDMs can be made with a wide variety of optical fibers including graded-index fibers and large core step-index fibers up to 400 μm core diameter.
The dichroic filter is fully customizable for UV, VIS or IR applications.
Specify your needs
object(WP_Term)#23589 (10) {
  ["term_id"]=>
  int(210)
  ["name"]=>
  string(20) "Application: Datacom"
  ["slug"]=>
  string(20) "datacom-applications"
  ["term_group"]=>
  int(0)
  ["term_taxonomy_id"]=>
  int(210)
  ["taxonomy"]=>
  string(11) "product_tag"
  ["description"]=>
  string(0) ""
  ["parent"]=>
  int(0)
  ["count"]=>
  int(0)
  ["filter"]=>
  string(3) "raw"
}

Application: Datacom
object(WP_Term)#23098 (10) {
  ["term_id"]=>
  int(212)
  ["name"]=>
  string(23) "Fibers: MM Graded Index"
  ["slug"]=>
  string(22) "mm-graded-index-fibers"
  ["term_group"]=>
  int(0)
  ["term_taxonomy_id"]=>
  int(212)
  ["taxonomy"]=>
  string(11) "product_tag"
  ["description"]=>
  string(0) ""
  ["parent"]=>
  int(0)
  ["count"]=>
  int(0)
  ["filter"]=>
  string(3) "raw"
}

Fibers: MM Graded Index
object(WP_Term)#23107 (10) {
  ["term_id"]=>
  int(211)
  ["name"]=>
  string(20) "Application: Sensors"
  ["slug"]=>
  string(20) "sensing-applications"
  ["term_group"]=>
  int(0)
  ["term_taxonomy_id"]=>
  int(211)
  ["taxonomy"]=>
  string(11) "product_tag"
  ["description"]=>
  string(0) ""
  ["parent"]=>
  int(0)
  ["count"]=>
  int(0)
  ["filter"]=>
  string(3) "raw"
}

Application: Sensors
object(WP_Term)#23587 (10) {
  ["term_id"]=>
  int(214)
  ["name"]=>
  string(21) "Fibers: MM Step Index"
  ["slug"]=>
  string(20) "mm-step-index-fibers"
  ["term_group"]=>
  int(0)
  ["term_taxonomy_id"]=>
  int(214)
  ["taxonomy"]=>
  string(11) "product_tag"
  ["description"]=>
  string(0) ""
  ["parent"]=>
  int(0)
  ["count"]=>
  int(0)
  ["filter"]=>
  string(3) "raw"
}

Fibers: MM Step Index