SEDI-ATI has just benefited from three France Relance schemes to modernize its production tools, design an innovative product, and develop its export business.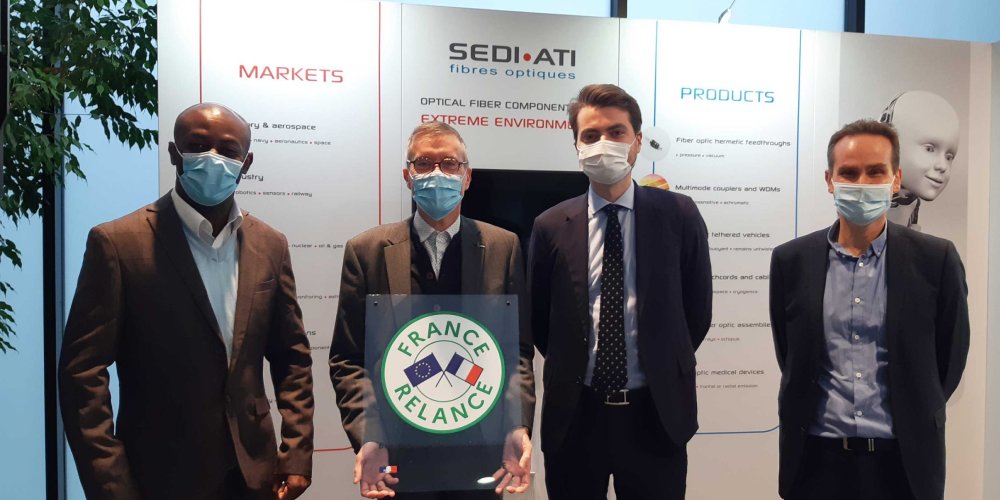 Following the obtaining of three schemes of France Relance, SEDI-ATI received the visit, on December 22, 2021, of Nicolas Lefevre Sub-prefect for the Revival of Essonne, Alban Bakary City and Community Councillor delegated to the creation of company of the Grand Paris Sud, and Jean-luc Pizivin Deputy to the DGA Development and Territorial Attractiveness of Grand Paris Sud and the City of Evry-Courcouronnes.
Modernization of the industrial tool thanks to the territorial recovery plan
SEDI-ATI has submitted an investment file for the modernization of its industrial tool for 400 k€ for which it has obtained, thanks to the support of the State with the agreement of the regional prefect on the basis of a consensus with the Regional Council, a subsidy of 200 k€. This grant will benefit its metrology, connectorization and watertight feedthrough manufacturing activities.
Design of an innovative product as part of the nuclear recovery plan
The company is a winner of the national call for projects dedicated to supporting the nuclear industry in a consortium with EDF, IXBLUE, TechnicAtome and Photonics Bretagne, with the collaborative project 3F2E (Filière Française de Fibre pour Environnement Extrême). The 3F2E project aims to develop metallic and/or carbon coatings on special optical fibers, capable of enabling the use of sensors in nuclear environments. This collaborative work will enable the establishment of an integrated industry 100% Made in France to free itself from foreign suppliers and guarantee national sovereignty over a strategic technology.
Development of the international business activity thanks to the export recovery plan
Finally, SEDI-ATI benefits from the measures of the recovery plan for export through the Export recovery voucher, the VIE recovery voucher, and a prospecting insurance to launch its export activity. This support has already enabled the company to open a sales office in Amsterdam, to hire a VIE, and to reduce by 50% the costs of participating in an international trade show.