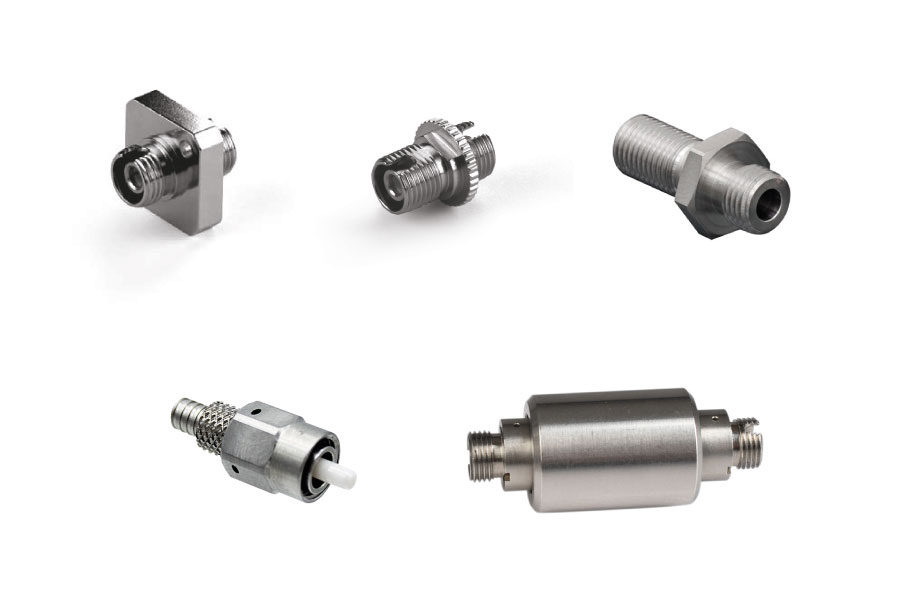 Fiber optic connectors and adapters
Fiber optic connectors
SEDI-ATI stocks a selection of singlemode and multimode fiber-optic connectors to terminate any of the fiber-optic components and assemblies we propose.
Please note that connectors are an integral part of our products and that we do not sell them alone.
Depending both on the product and on your application, we will advise you to choose from an extensive selection of standard fiber-optic connectors among the following:
E2000 APC
ELIO
FC/PC
FC/APC narrow key
FC/APC wide key
LC/PC
LUXCIS
MICROPTIC
MTP® male
MTP® female
SC/PC
SC/APC
SMA 905
ST/PC
Or you can choose between our proprietary connectors specially designed for military, space, and aeronautics applications:
For high-vacuum applications, we can specify stainless-steel connectors in ST, FC, or SMA style.
Stainless steel and ceramic ferrules
Depending on various parameters such as the optical fiber type, the connector type, and the application, the connectors can be mounted with a stainless steel or a ceramic ferrule (Zirconia).
Ceramic ferrules are preferred for applications sensitive to magnetic fields, while stainless steel ferrules are ideal for vacuum applications.
Fiber-optic connector selection guide
Optical fiber type
Ferrule material
Ferrule diameter
Compatible connector style
• Singlemode fibers
• Polarization maintaining fibers
• Multimode graded-index fibers GI 50/125 µm or 62.5/125 μm
• Multimode step-index fibers with ⌀125 μm cladding
Ceramic
⌀1.25 mm
LC/PC, NANOXtreme®
⌀2.5 mm
FC/PC, FC/APC, SC/PC, SC/APC, ST/PC, FCXtreme®
Stainless Steel
⌀1.25 mm
LC/PC
Multimode step-index fibers from 200 µm to 1000 µm core diameter
Stainless Steel
⌀2.5 mm
FC/PC, ST/PC, FCXtreme®, MICROPTIC*
⌀3.17 mm
SMA
* for step-index fibers from 200 µm to 400 µm core diameter only.
Bulkhead adapters and receptacles
We also offer round and square bulkhead adapters, to connect two cables together. You can choose between E2000/APC, FC, LC, SC, ST, and SMA styles.
Besides, we have an SMA bulkhead receptacle to connect an SMA terminated cable on one side and to project light into free space.
And for power applications, we have developed the K-Power product line. These components are air-spaced SMA to SMA adapters aiming at transferring the optical power from an SMA-905 terminated fiber optic cable to another such cable. Discover the K-Power product line.
Do not hesitate to contact us to discuss your specific requirements.