Fiber OpticMedical probes
Manufacturer of fiber optic medical devices
SEDI-ATI's fiber-optic medical devices are manufactured in ISO class 7 cleanrooms, in accordance with ISO 13485 and ISO 9001 certified quality systems. SEDI-ATI can support its customers in compiling technical files for CE marking.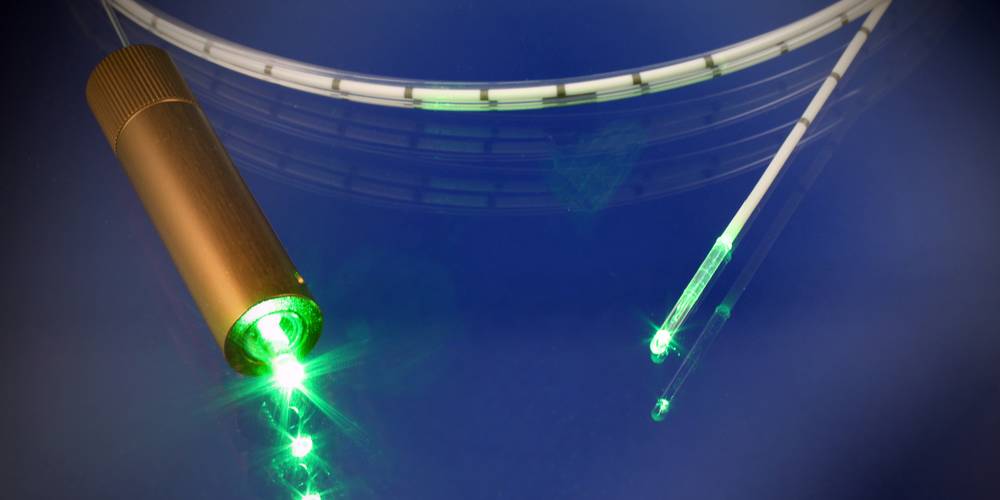 Innovative solutions for the design of fiber optic medical devices
We offer bio-compatible and sterilized products for minimally invasive laser procedures.
Our R&D team co-develops innovative solutions with our customers such as fiber optic needles for breast cancer detection, or fiber optic probes with a radial emission for varicose veins treatment.
We design medical probes with custom-made handpieces, a broad range of optical fiber core diameters, and various shapes for the distal end (cleaved, polished, angled…).
Custom-made fiber optic medical probes
Our medical probe handpieces are tailor-made to fit any type of medical laser, and to meet the surgeon's/practitioner's specific use and pre-emption requirements.
Our offer covers a wide range of applications, thanks to the wide choice of large-core optical fibers we offer (from 50 µm to 1000 µm), and the variety of possible shapes for the distal end (cleaved, polished, angled…).
Products: Fiber optic probe
SEDI-ATI has acquired a very specific know-how in the integration of an optical fiber into a metallic needle. Fiber optic needles are suitable for diagnostic, dentistry and dermatology applications.

We offer fiber optic probes with a cleaved end for frontal emission applications. The main applications of such probes are Endovenous Laser Therapy (EVLT), urology, podology, and laser surgery.

The fiber optic probes for radial emission applications that we produce are optimized for use @1470 nm.