The fiber optic probes for radial emission applications that we produce are optimized for use @1470 nm.
Description
Manufacture of a fibre-optic probe system for radial emission
The fiber optic probes for radial emission applications that we produce are optimized for use @1470 nm. This product is particularly suitable for phlebology and gynecology applications where a radial emission of the laser light is recommended.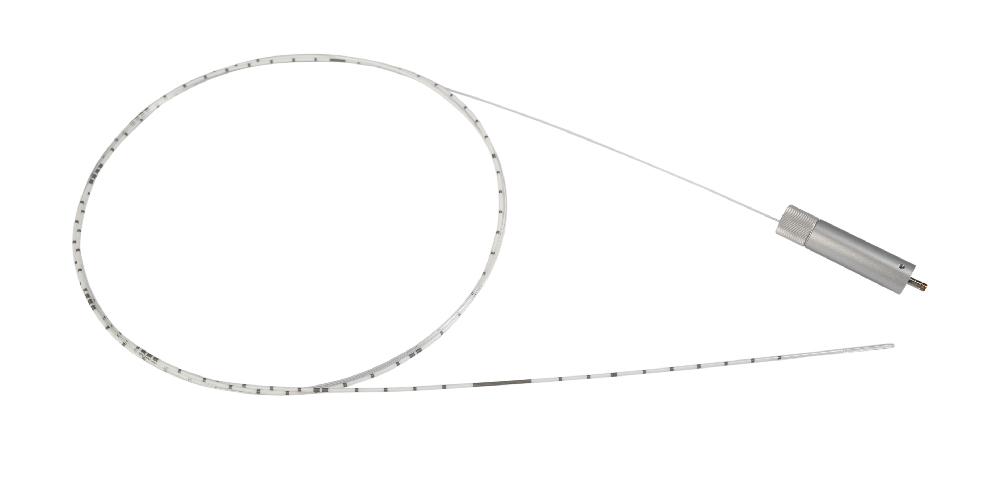 Cylindrical 360° light emission
Uniform energy emission
Disposable probe
Biocompatible materials
Sold sterilized (Ethylene Oxide)
400 µm or 600 µm silica/silica fibers
Silica capillary
Handpiece with SMA connector
Optimized for use @1470 nm and @1940 nm
Options upon request:
Integration of customer's handpiece
Integration of customer's RFID Chip
Optical fibre for radial transmission
The Ring fiber-optic probes produce a uniform cylindrical 360° emission profile essential for radial laser treatments.
Our optical fibers are USP Class VI certified, non-toxic, and biocompatible.
Standard products use either a 400 µm or a 600 µm core all silica fiber, to suit different types of lasers and medical procedures.
The distal end is polished in a conical shape and enclosed in a silica capillary to generate a homogenous annular emission.
Homogenous laser energy distribution
When combined with laser sources at either @1470 nm or @1940 nm, the Ring probe shows excellent thermal properties. Indeed, this combination ensures the laser energy distribution is homogenous and gentle, which is much appreciated for the patient comfort.
The main application is Endovenous Laser Treatment (EVLT) for varicose veins, which is a minimally-invasive laser treatment that allows to quickly remove painful or unsightly varicose veins while minimizing pain and recovery time.
Connector for fiber optic probes
The probe is equipped with the Powershot SMA connector manufactured by SEDI-ATI. This connector of fiber optic is specially designed for power applications. A free-standing ferrule with an air gap around the fiber allows excellent power handling and the assembly technique avoids any stress on the fiber itself.
The jacket is made of a biocompatible material. It has a black centimeter marking to help visualize the fiber introduction in the vein.
Manufacturing of medical fiber optic probes
Non-toxic, biocompatible materials
Manufactured, packaged, and stored in a clean room ISO7
Production workshop certified ISO 9001 & ISO 13485
Packaged in a double bag, and sterilized by Ethylene Oxide
The capillary and fiber tip remain intact up to a cumulative energy of at least 5000 J.
The fiber tip assembly on the optical fiber withstands a traction of 10 kg.
The Ring fiber-optic probe is a disposable medical device: it must be used only once! One fiber = one use!
The sale of this product must be governed by a subcontracting agreement. It is the customer's responsibility to support the CE marking while SEDI-ATI supports the customer by providing the product's technical file.