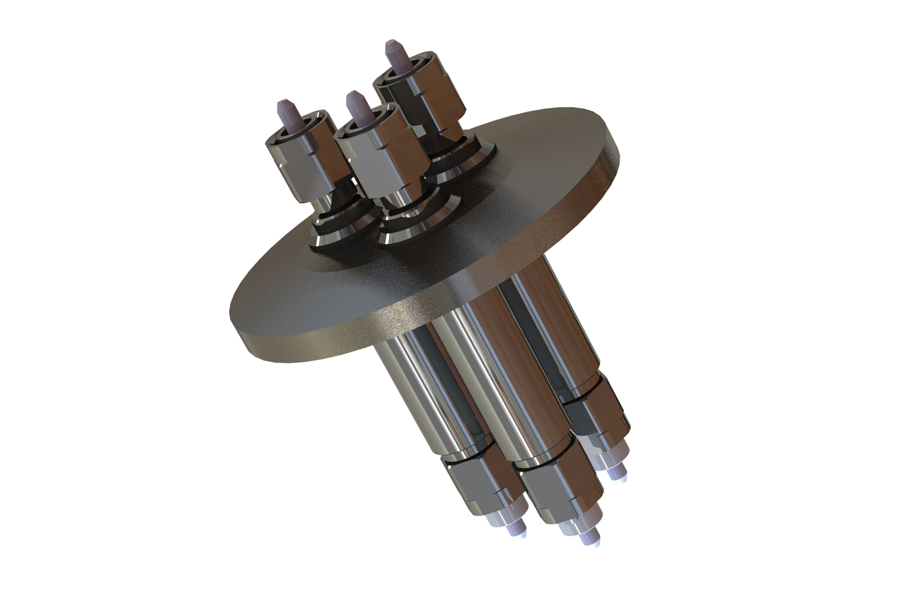 Key features
applications: vacuum and ultra-high vacuum
hermeticity: 10-11 mbar.l/s
fibers: PM
interface: FC/APC or FC/PC
multichannel: up to 4 depending on flange type
available flanges: DN 40 CF and DN 40 KF
wavelength ranges: UV-VIS-NIR
design: ruggedized
CF and KF vacuum polarization maintaining fiber optic feedthrough with adapter interface
The KTRAV-T12 "CF and KF vacuum polarization-maintaining fiber optic feedthrough with adapter interface" is a multichannel feedthrough. It is available with either a KF flange for high vacuum applications or a CF flange for ultra-high vacuum applications down to 10-11 mbar. And it presents a connector interface on the flange.
Standard configurations are available for:
1 to 4 individual channels within one DN 40 CF flange,
1 to 3 individual channels within one DN 40 KF flange.
Custom designs are also possible upon request as we offer different sizes of ISO, CF, and KF flanges. Consult us for more information.
The channels are soldered to the 304L stainless steel flange, which ensures low outgassing and helium leakage rates compatible with UHV environment. The KTRAV-T12 vacuum polarization maintaining feedthrough ensures a high level of hermeticity better than 10-11 mbar.l/s.
The KTRAV-T12 vacuum fiber feed-through is optimized for polarization-maintaining fibers. It is offered with FC/APC or FC/PC interface.
Please contact us to discuss your specific requirements.
KTRAV-T12-CF40-FC

Pressure

ultra-high vacuum

Hermeticity

10-8 mbar.l/s

Sealing technology

clamp ring

Housing material

stainless steel 304L

Number of channels

1 to 4

Panel drilling diameter

depends on the number of channels

Panel thickness

1 mm min.; 23,5 mm max.

Fiber type

SM, MM GI50, MM GI62.5, LCH50, LCH105 with 125 μm cladding

Insertion loss

< 1 dB max. @1550 nm (0.3 dB typ. @1550 nm on SMF128)

Operating wavelength range

200-2000 nm depending on the fiber

Operating temperature range

-55°C to +125°C

Storage temperature range

-55°C to +200°C